LAKE MANAGEMENT
CO-CHAIRS | JIM WHEATON & BARRY LISHAWA
Water Quality | To study and monitor water quality and level and to observe and report problems of pollution, soil and bank erosion, etc.
Weed Management | In conjunction with the Township, organize and administer the effort to locate and control noxious exotic weed infestations. Maintain awareness of and advise Board of management alternatives. Organize and oversee control activities.
EURASIAN WATERMILFOIL TREATMENT 2019
The Lake Management Committee will do two treatments this year.  The treatment dates will be Monday, June 24th and Monday, July 29th with rain dates the following days respectively.  Milfoil has two growing seasons each year and we treat during both of them.
Riparians who are within 100 feet of a treatment area are contacted by mail, and given the treatment dates and reminded of the 24-hour swimming restriction. Our herbicide applicator places a notification card on each property that is affected on the day of application. The card explains which herbicide was used and the swimming restrictions.
The application takes a full day (9 AM to 6 PM)  The Lake Management Committee spends approximately 200 volunteer hours on this project each year.
This project needs attention each year as Eurasian Watermilfoil can grow quickly, and untreated areas will affect everyone's use of the Lake.
Mickey Lake, the Timbers area, and the north side of Fox Island are examples of recent successes in making the lakes more enjoyable.
LLA INVASIVE SPECIES MANAGEMENT POLICY
It is the policy of the Long Lake Association to continue utilizing an integrated pest management program in order to minimize the impact of invasive species on the ecological health and recreational enjoyment of the lakes.  We will continue to closely monitor all conditions with the understanding that with most invasive species of plants and animals, complete eradication is unlikely.
EURASIAN WATERMILFOIL PROCEDURE
The treatment map identifies the Eurasian Watermilfoil treatment areas plan for 2019.  The treatment includes herbicide (Navigate Pellets or Navitrol Liquid) on Long, Mickey and Ruth Lakes, totaling approximately 10 acres. Our goal remains to be environmentally responsible while monitoring and controlling invasive species in our lakes.  For more information on our lake management program or to provide feedback, please contact Jim Wheaton or Barry Lishawa.
2018-2019 EURASIAN WATERMILFOIL TREATMENT MAP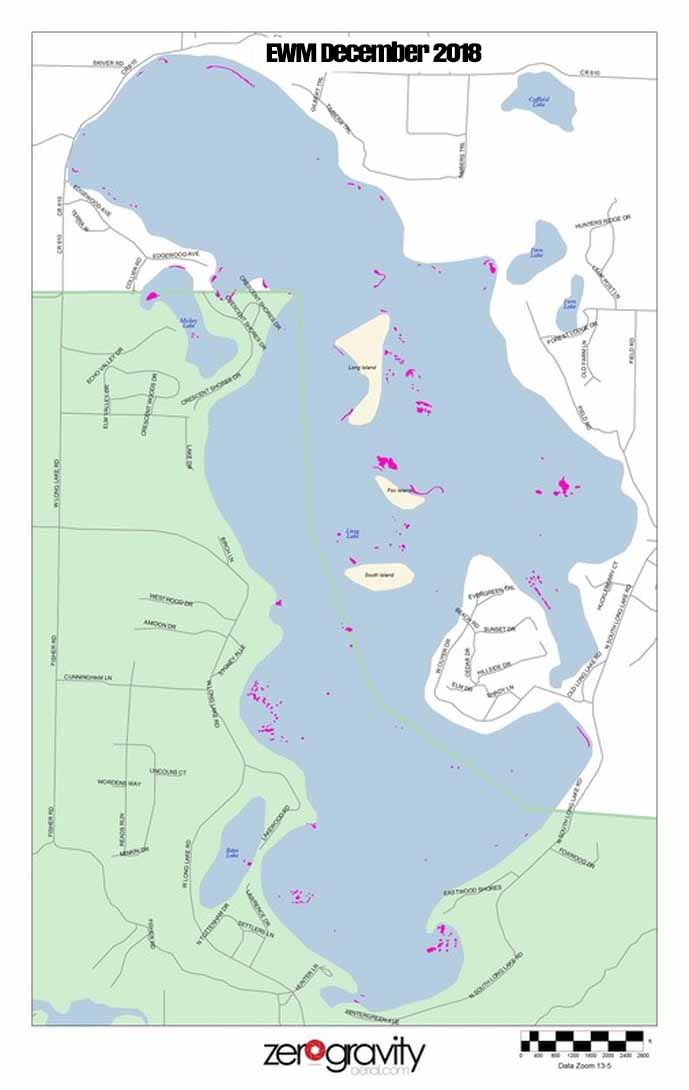 The pink areas on the map above show the potential treatment sites and drawn to approximate scale.  Each area will be assessed at the time of treatment.
NATURALLY OCCURRING BIO-FOAM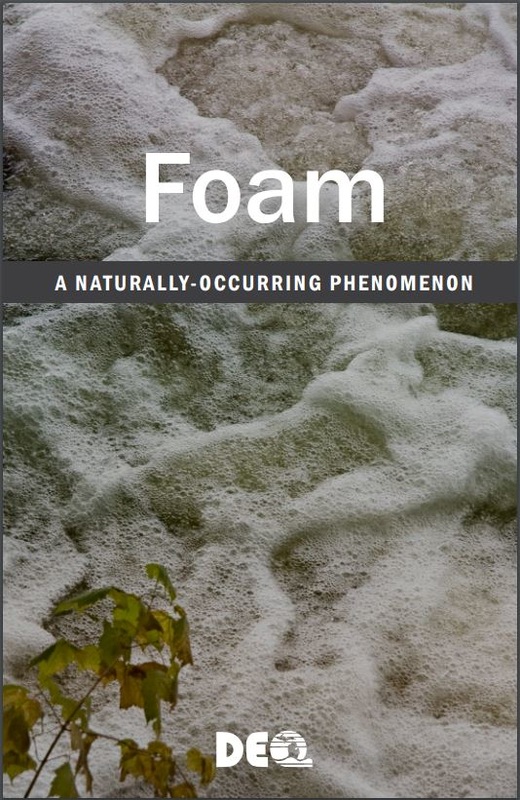 ​On Long Lake we occasionally see mounds of foam and suspect detergent discharge from homeowners.  Actually it is naturally occurring Bio-foam and not detergent.  When algae, plant, and fish material break down organic compounds are released.  Some of these are surfactants which change the surface tension (attraction between water molecules) of the water and allow wind and waves to introduce air producing Bio-foam.  This foam is long lasting unlike detergent foam and often has a brown tinge due to the tannins in the water.
REFERENCE MATERIALS
Bio Foam | An Naturally Occurring Phenomenon | DEQ | Download File
Aquatic Plant Control | Things to Consider | Tony Groves & Pam Tyning | Download File